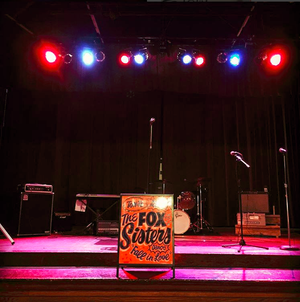 Bio
The Fox Sisters are a six piece party outfit that play original music influenced by American Rhythm & Blues of the 1960's. The band formed in 2013 when a group of friends, all veterans of the Rochester NY music scene, got together for kicks and immediately sparks flew! Before long they were known as the Flower City's premier party starters and the go to band for night clubs, dances and backyard BBQ's. 
2015 saw the release of their first single, "Right Hip Pocket", and full length album Under The Stars. Both received rave reviews and went to the top of the local radio charts for 3 months! 
In 2017 The Fox Sisters starting their own label, Dive Records, and released two back to back singles. "Stuck on You" b/w "Yeah Yeah" (DIVE 001) and "My Finest Hour" b/w "On The Upside" (DIVE 002). They closed out the year by recording a live session for WFMU. 
2018, 3rd single on Dive recorded in the Squire's storied Subterranean Studios in Rochester, NY. Double A sides! "Busy Bee" b/w "Uum Uum Uum". 
2019: The Sisters top off a year of hot live gigs with an appearance at the WFMU Ichiban 10-Year Anniversary show 
2020, The Fox Sisters return with a full-length album, "Bust Out!". Twelve original tracks recorded at the Subterranean Studios. First single served up is "The Song I Sing", with video directed by Austin Lake (of Rochester, NY greats The Televisionaries and Aweful Kanawful).  
2023: The Fox Sisters release an LP on FOLC Records (Madrid, Spain) titled Bright White Light. Twelve powerhouse songs recorded at Saxon Studio in Rochester, NY.  Produced by the seventh sister Chris Zajkowski (Squires of the Subterrain). 
More about your Fox Sisters....
The Fox sisters are believers. Their natural credulity allows them to accomplish what they cannot, and to be what it was never given them to be. 
The Fox sisters are defenders of all that is real and full of soul. They stand firm with the belt of truth buckled round their waists, and the shield of righteousness in place. 
The Fox Sisters are magic-men. They are given to all kinds of marvelous beliefs, are subject to trances and visions, and frequently hear music and voices in the air. 
But most of all... most fully, firmly, and decidedly of all... the Fox Sisters are lovers. They sing of love like God's little birds sing of the new morning. 
Among so many other things,
The Fox Sisters are: 
Brian Shafer - drums
Jimmy Filingeri - bass 
Chris Coon - piano
Mark Bradley - tenor sax 
Patrick McNally  - vocals 
Phil Marshall  - guitar
"It's as if The Kingsmen put out a new album but got ten times better!"        
- Will Carroll, National Teenset Outsider 
"Pure reckless, demented bliss. Fast, loose, and joyfully unhinged." 
- Cliff Parks, Buffablog, Buffalo, NY
"This is a band you positively need to catch live!"  
— Frank DeBlase, City Newspaper 
"They play soul shaking, body quaking, late 50's/early 60's style Soul/R&B music. The same kind of terrific sounds that radiated from people like Otis Redding, Sam Cooke and Jackie Wilson decades ago and they do it with every bit of the same passion and fire that those guys did back then." 
 - J. Castro, AudioAmmunition
"With a stomp and a whoop, the band floored it with a flipped-out frappe of soul and r&b. It was a soul-shaking, hip-quaking blast of Hell Yes. It was The Fox Sisters, and man, did the band ever lay it down. Forty-five fun minutes from the starting stomp and whoop, the crowd was collectively spent and elated."  
 -Frank Deblase, City Newspaper, Rochester NY
You can contact The Fox Sisters directly at foxsistersband@gmail.com